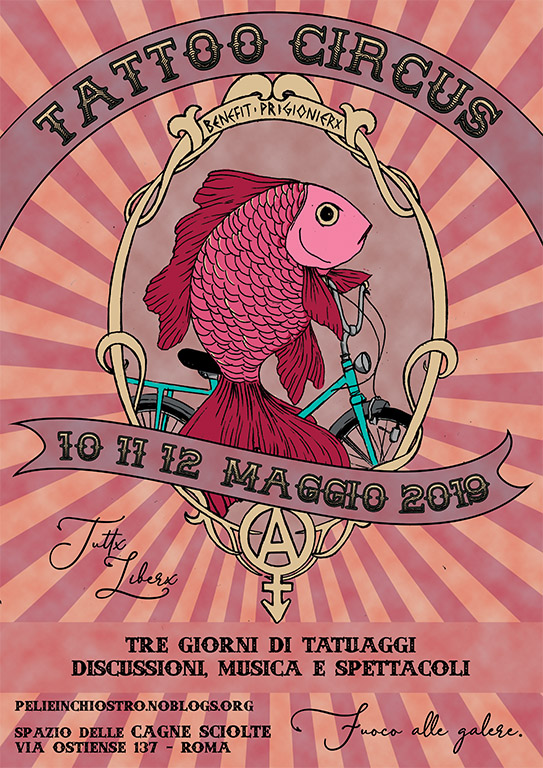 English translation below
La Tattoo Circus è benefit per le prigioniere e i prigionieri anarchicx reclusx a seguito delle varie operazioni repressive che colpiscono le lotte e le pratiche di ribellione al potere. Sempre solidali con chi si trova rinchiusx tra le mura che lo Stato erige per isolare chi lotta, chi non ha documenti, chi si svanga la vita, chi si rivolta alla violenza patriarcale.
Perché siamo contro il carcere e tutte le strutture di detenzione, come i CPR, che sono i luoghi perfetti del dominio, fatti di violenza ed umiliazioni, controllo e disciplinamento dei corpi, dove si acuiscono le asimmetrie dei rapporti di potere e si esasperano i ruoli di genere. Perché siamo contro la società che li necessita.Il vissuto del carcere è fatto di piccole e grandi battaglie, di resistenze quotidiane per l'espressione di sé, della propria individualità, dei propri desideri. Ci si tatua e ci si tatuava, in galera. "Chi si tatua è delinquente, o lo diventerà", scrisse nel 1876 il fondatore della criminologia moderna Cesare Lombroso.
Le Tattoo Circus nascono per "riportare il tatuaggio tradizionale occidentale alle sue origini galeotte e di strada". L'intento è di non lasciarci sottrarre la pratica del tatuaggio dall'estetica mainstream e capitalista, rigettando l'appropriazione di simboli e tradizioni delle culture colonizzate.
Contro l'omologazione agli stereotipi eterosessisti, per la riappropriazione dei nostri corpi di donne, trans*, lesbiche, frocie.
Ammirare e mostrare il proprio corpo, nella sua im-perfezione e caducità ha un significato potente di liberazione per tutti quei corpi per il quale ciò non era previsto.
Decorare, stuzzicare, incidere, temprare, risvegliare, amare tutti quei corpi che sono campi di battaglia è trasformarli in luoghi giocosi e liberi.
Lo spazio sarà aperto:
venerdì 10 maggio dalle 17.00 alle 01.00
sabato 11 maggio dalle 11.00 alle 01.00
domenica 12 maggio dalle 11.00 alle 19.00
E oltre ai tatuaggi troverai:
-Serigrafia femminista – porta la tua maglietta –
-Tarocchi
-Scarificazioni sperimentali
-Angolo auto tatuaggio
-Spazio distro e scrittura lettere per i/le prigionierx
-Massaggi/laboratorio di auto massaggi
Per il programma dettagliato consulta:
https://pelieinchiostro.noblogs.org/programma
———————
The tattoo circus is a fundraiser for the anarchist prisoners locked up after the latest repressive crackdown that targets the struggle and rebellious practices against the powers that be. We stand in solidarity with those held within the walls that the State erects in order to isolate those who organize, those who have no legal status, those who struggle to survive and those who rebel against the hetero-patriarchy.
We do this because we are against prisons and structures of detention, like CPRs (immigration detention centers) that are perfect spaces of domination made up of violence, humiliation, control, and disciplining of bodies, where power structures are maximized and gender roles are exacerbated. And because we are against a society that requires them. The struggle in prison is made up of  big and small battles, of daily fights for self expression, for one's individuality and for one's own desires. People did and still do tattoo themselves in prison. "A person who is tattooed is either a delinquent or a latent one", wrote Cesare Lombroso, the founder of modern criminology, in 1876.
Tattoo Circuses are born to "bring traditional Western tattoo practices back to their delinquent and street roots".  We intend to stop the mainstream capitalist aesthetic from appropriating the act of tattooing, refusing the theft and exploitation of colonized people's symbols, imagery, and traditions.
We will not be homogenized into heterosexist stereotypes, we fight to reappropriate our bodies as women, trans* people, lesbians, dykes.
To admire and show off one's body, in all its imperfections and transience acquires a very strong meaning for those bodies for whom this was not intended.
To decorate, tease, carve, heal, re-awaken, and love all those bodies that are battle-fields means to transform them into freed and playful spaces.
Opening hours:
Friday 10 May from 17.00 to 01.00
Saturday 11 May from 11.00 to 01.00
Sunday 12 May from 11.00 to 19.00
Beyond tatoos you'll find:
-Feminist screen printing -bring your own t-shirt!
-Tarot reading
-Experimental scarification
-Self-Tatooing corner
-Space for zines and the writing of letters to prisoners
-Massages/Self-massage workshop
More information on the programme at:
https://pelieinchiostro.noblogs.org/programma